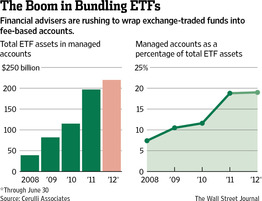 Are you watching? Did you know it costs shareholders $115B Fees and Expenses to own US Mutual funds and ETFs – each year?  Is the cost justified by an annual Fiduciary Account Compliance Expense Audit (FACE) Audit included in the new exclusive, account security protection service McFideo™.
The investment industry deducts their expenses automatically debits directly by way of NAV (net asset value) charges on monies in mutual funds and ETF's so, unless you look and calculate it it's hard to see.  The same for amounts invested in many life insurance, annuity and separately managed accounts.  The costs for those products will be addressed in a future post.
When you don't have to cut a check for something costs can more easily slip under the radar.  Studies have pointed out that when payment / money exchange is a little too convenient (credit cards, debit, rewards cards, rebate cards or automatic direct debits) it's easier for many to lose track of the costs – since we don't physically take out a check book and issue a check.
The investment industry makes close to a half billion dollars each day to manage the assets in mutual funds and ETFs.  Do you know how much your fiduciary account is paying?  There's no time to put it off, you are required to 1) know it, 2) decide that the funds are appropriate, 3) in the best interests of the account's beneficiaries 4) not just upfront but 5) on an ongoing basis. When was the last time you satisfied this duty?
For more information info@mcfideo.com or (310) 943-6509
Copyright Chris McConnell & Associates 2013 to 2017 All rights reserved